Did you know that our body cannot tell if we are really laughing or just pretending? Whether your laugh is prompted or spontaneous, both produce the same "happy chemistry".

Laughter, combined with physical and deep breathing exercises, have been linked to health benefits and general positivity in life. It can reduce stress levels, decrease chances of depression, improve asthma conditions and more. That should already put a smile on anyone's face!
 
Birth of Laughter Clubs
In 1995, Indian doctor Madan Kataria became interested in the positive effects of laughing while researching for medical journals. He had his eureka moment after studying how to bring joy to the people, and launched the first Laughter Club session. Today, there are around 60 laughter clubs around the world. Singapore, too, has a number of such clubs.
 
Bringing "Ha Ha Ha" to Singaporeans
For a decade, Madam Zareena Bana made people laugh out loud – but not as a comedian. The 82-year-old founded one of Singapore's pioneer laughter clubs -- the Joo Chiat-East Coast Laughter Club.

"During one of my annual holiday trips to Mumbai in 2000, I came across the Laughter Club. I was intrigued by it and attended one session. I really enjoyed how laughing made me feel and wanted to bring it to Singapore," shared Zareena.

She felt that Singaporeans were under too much stress, and cackling up was just the thing they needed.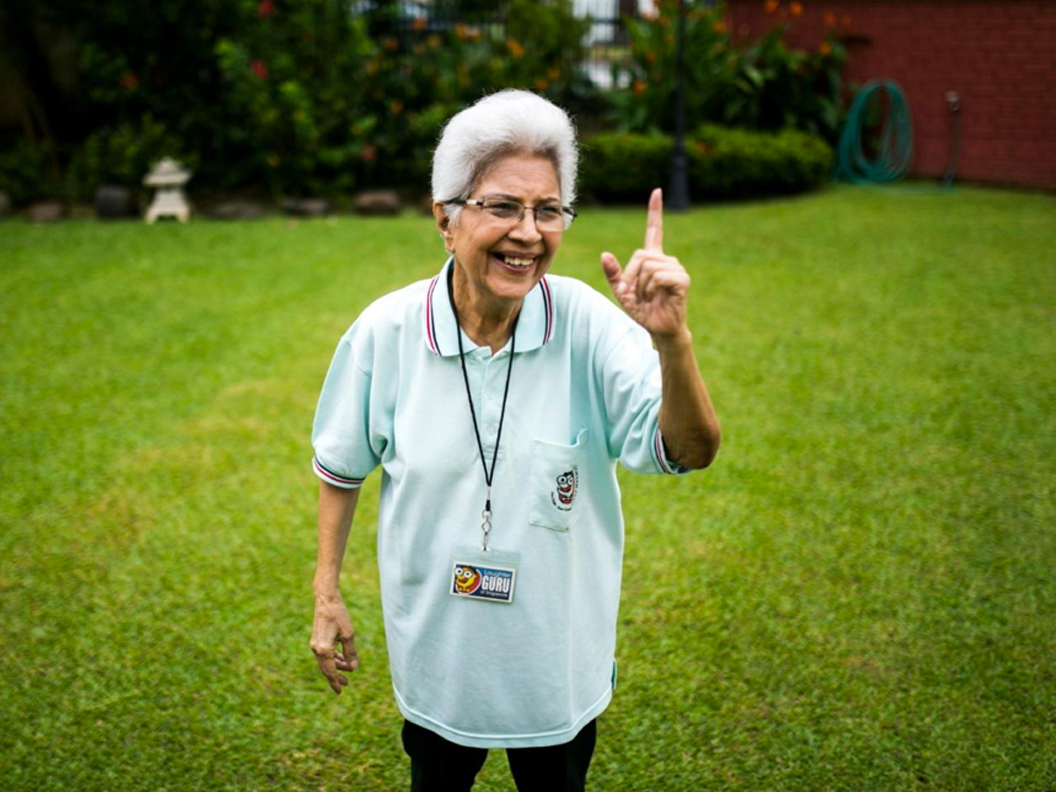 Zareena started her first laughter session at East Coast Park with five participants. Back then, the concept was still new to locals, but passers-by at the park started to join in when they saw what the group was doing.

As Zareena's club expanded, she moved her chuckle crusade to Joo Chiat Community Centre, and formed the Joo Chiat-East Coast Laughter Club. It soon attracted more people, even seniors in wheelchairs. At one point, Zareena's club had 120 attendees.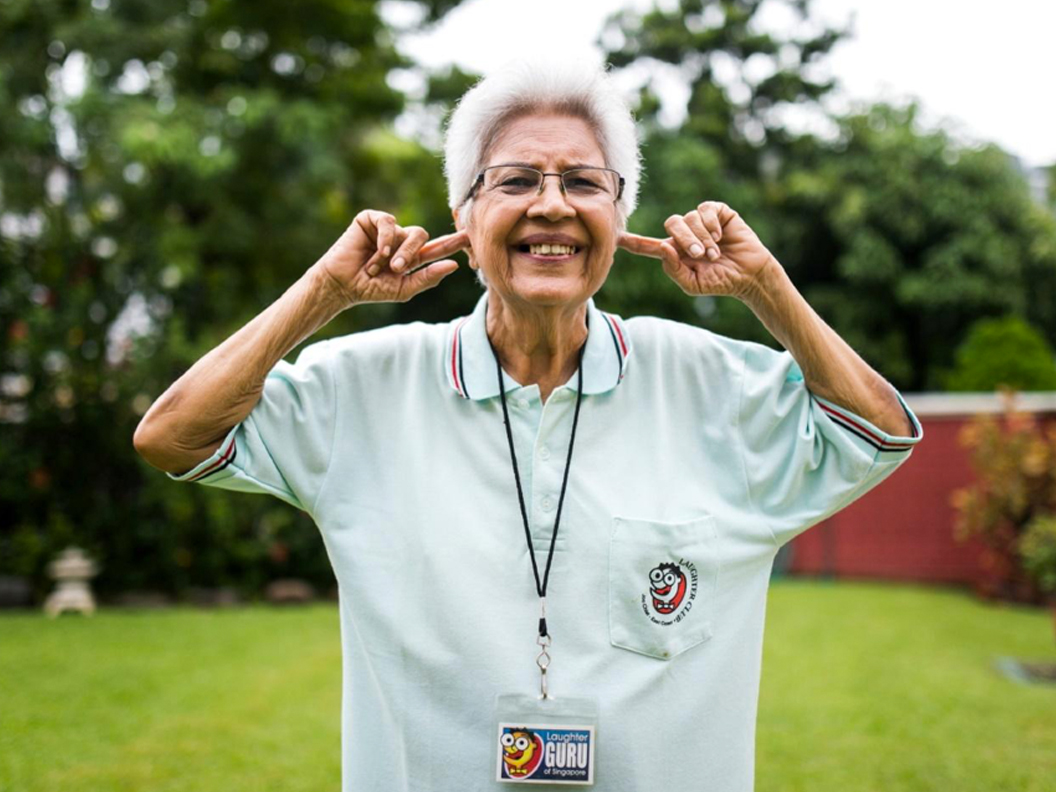 What Goes into a Laughter Session?
One session takes around an hour and combines laughter, exercise and deep breathing. Each move consists of one exercise and one laughter action, and starts from the head, moving on to the eyes, neck, shoulders and slowly going down the body. "This is especially good for seniors because it encourages them to move their body, from head to toe, and to engage with people around them," explained Zareena.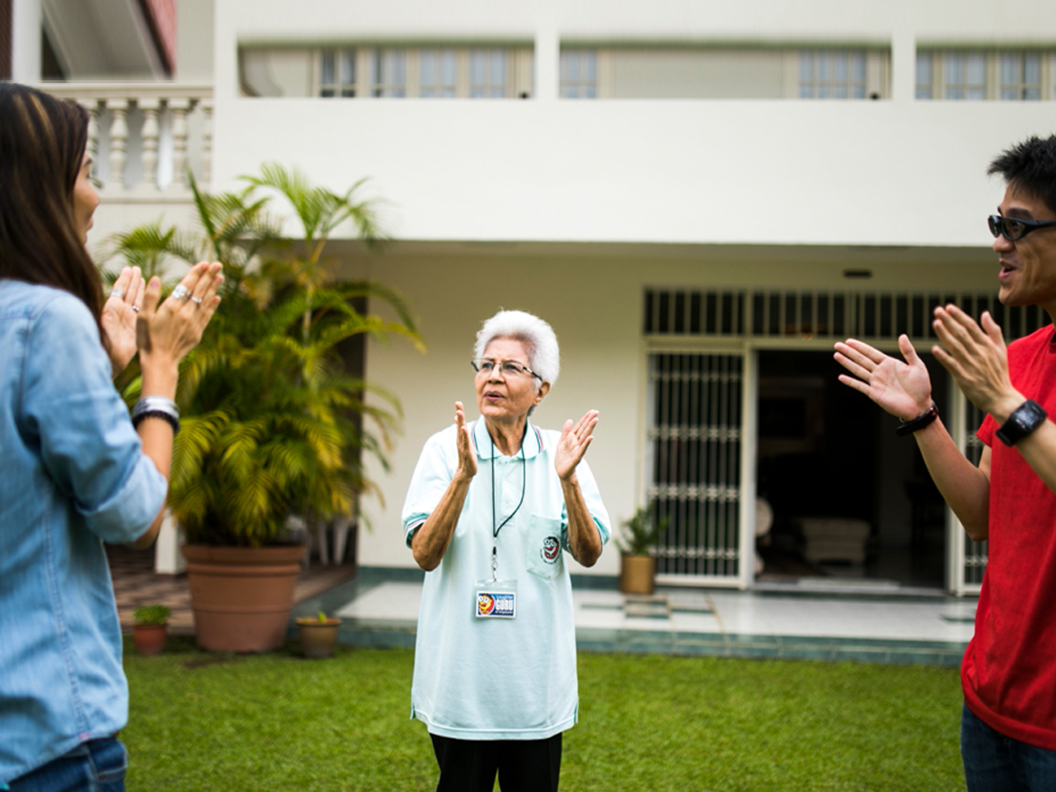 To make each other giggle, the group would do funny actions like miming brushing their teeth while making eye contact with the person next to them. At the same time, the participants are exercising their arms when doing the brushing movement, and they wouldn't even realise it.

Zareena observed that seniors are usually reserved when they first start the session, but would enjoy the sessions and leave in a happy mood. They also treated Zareena like a friend, "a number of them would even give me "ang baos" (red packets) during Lunar New Year!"
Although she is now retired from her role as a laughter guru, Zareena still practises her exercises. She does warm-up exercises daily to get her blood circulation going. When her family visits on weekends, she will hold laughter sessions as a bonding activity for the family. Zareena's motto is to " Laugh as much as you can!"
 
Bringing Joy to Singaporeans
Zareena may have left her Laughter Club days behind, but the movement is still going strong in Singapore. She estimates that there are more than 40 such clubs here, including the Haha Hehe Club. Started by certified laughter yoga teacher 46-year-old Feliz Angela Hassan, the motivation behind this wellness initiative was from seeing retirees' "long faces" while exercising at the park.

There are other certified Laughter yoga teachers in Singapore, which you can find out more about here.
 
Benefits of Laughing
Laughing is Exercise
It works our muscles. By incorporating simple stretches, we flex and exercise our arms, legs and back muscles. This benefits seniors who are not very mobile and don't get enough exercise.
Laughing is Good for the Heart
It improves the heart and stimulates blood circulation. When combined with the warm-up exercises, it can lower blood pressure and tone the heart muscles.
Laughing Is a Natural Painkiller
It improves our mood. When we laugh, our body releases endorphins which act as a natural painkiller. This especially benefits the elderly as it can help take away some of their aches and pains.
Laughing Makes Us Youthful
It tones our facial muscles, which increases blood supply to our faces. This is why people look flushed when they laugh. The sudden rush of blood nourishes our face and makes it glow. So laugh as often as you can!
Laughing Is an Immune Booster
It lowers stress hormones and increases immune cells and antibodies that fight infections, improving our body's ability to fight diseases.