Ways Seniors Stay Active and Healthy
Staying active and exercising regularly keep our body strong and healthy as we age. It is also a great way to de-stress and even make new friends. There are many activities you can do, but it is important to find something that you enjoy doing and add it into your routine. A simple 30-minute walk every day is a great way to get started.
In Singapore, there are many choices for seniors looking for a place to exercise for free. You can head over to a nearby park where you can make a few loops around its running and walking paths. If you prefer a more scenic route, try nature reserves such as MacRitchie Reservoir where you can stroll or jog, and even do some bird-watching. There are also many fitness corners with exercise machines below your HDB blocks where you can do some quick workouts.
That said, NEXTSTEP went to a few of these exercise spots to ask some seniors how they stay active and healthy as they age. Here is what they shared.
He jogs the tracks and hits the fitness corner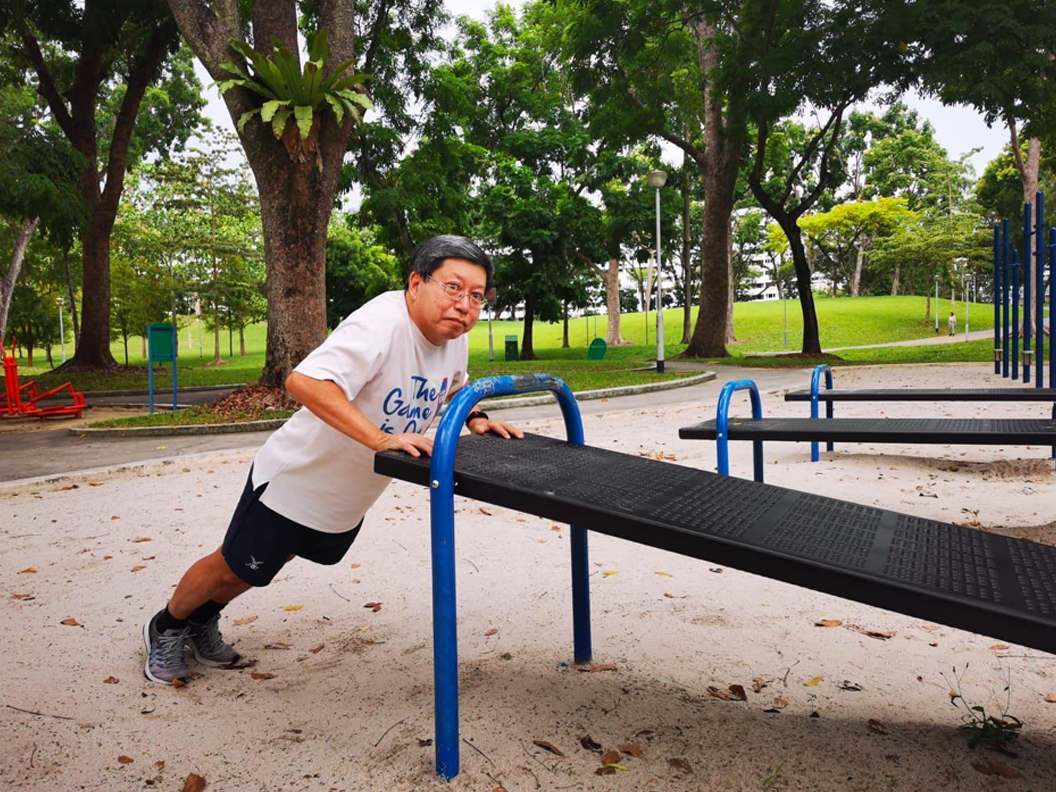 62-year-old Mr Vincent Tan exercises three days every week at Bishan Park in the late afternoons. If it rains, he heads over to Our Tampines Hub where there is a covered running track on the fifth floor.
At these sessions, he jogs 5 km as well as does strength training exercises such as push-ups and sit-ups. Last year, he even completed the 10km ST Run.
For Mr Tan, the workouts help him destress and keep healthy. "I do my workouts at my ability and pace. That way, I can avoid getting injured from overextending myself."
"Anyone can start working out at any age. Just do it at your ability and pace, and start with small goals."
He walks every day
Mr Oon Say Tee incorporates walking into his daily routine to stay healthy. Because of his back injury, he cannot do more rigorous activities, but he tries to walk wherever he can.
The 70-year-old is up every day at 5.30am and after breakfast at home, he walks to Redhill MRT and then to Tiong Bahru Plaza. He doesn't dawdle and the one-way journey takes about 30 minutes. Along the way, he picks up newspapers for his family.
"I do this every morning unless it's raining. In the afternoon, I also do some physio exercises for my back injury."
He does Taekwondo drills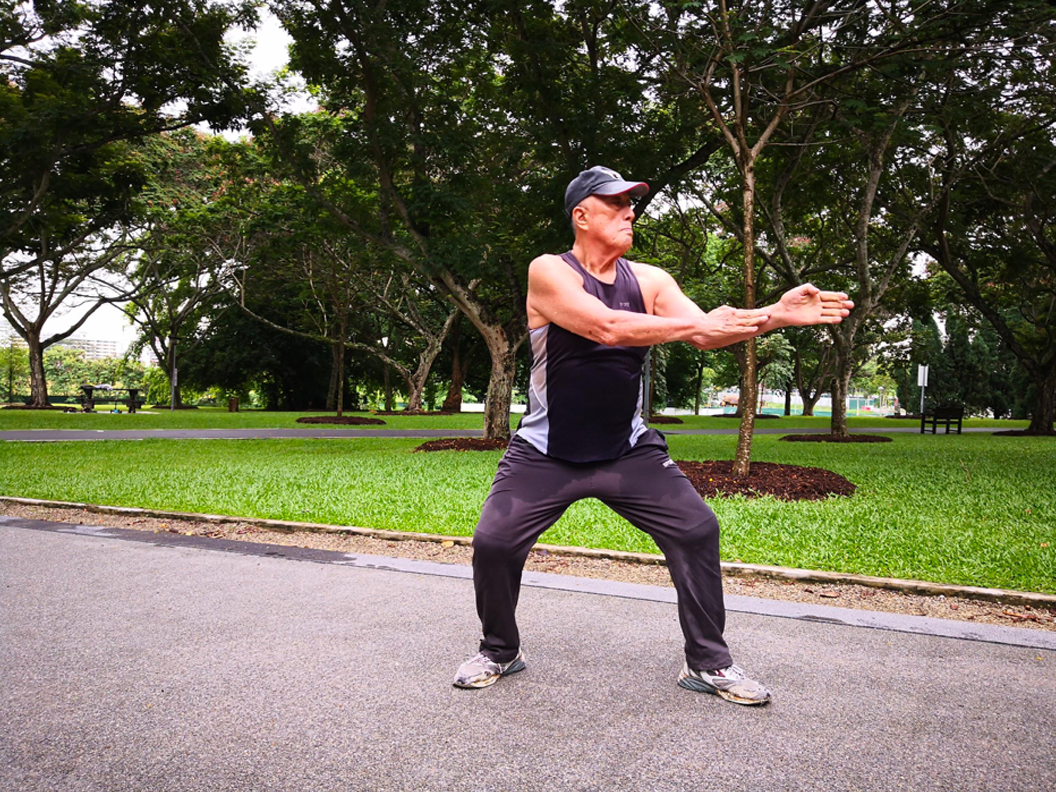 For Taekwondo practitioner Mr Johnny Ang, practising Taekwondo regularly keeps him healthy and strong. He is 83 this year, but when we saw him at Bedok Reservoir one evening, he was busy performing the poomsae, a Taekwondo pattern. The poomsae is a series of hand attacks, blocks and kicks linked together in a specific sequence. Mr Ang completed it with the grace and flexibility of someone half his age.
"These days, I practise about three times a week. Some days, I'll be at Bedok Reservoir from 4.30pm till 7.30pm. As a member of the Singapore Taekwondo Federation, I also practise at the National Training Centre at Lor Limau from 10am to noon with about 40 other senior Taekwondo members."
As the seniors above show, keeping active doesn't need to be a complicated process and isn't limited to just the young. Look for an activity that interests you, make sure you are physically suited for it, and get moving right away. Even incorporating something as simple as walking into your daily routine can help you age well and gracefully.
Happy working out!