(This story is from our archives of NextStep Magazine. The Magazine has since been renamed to AIC With You)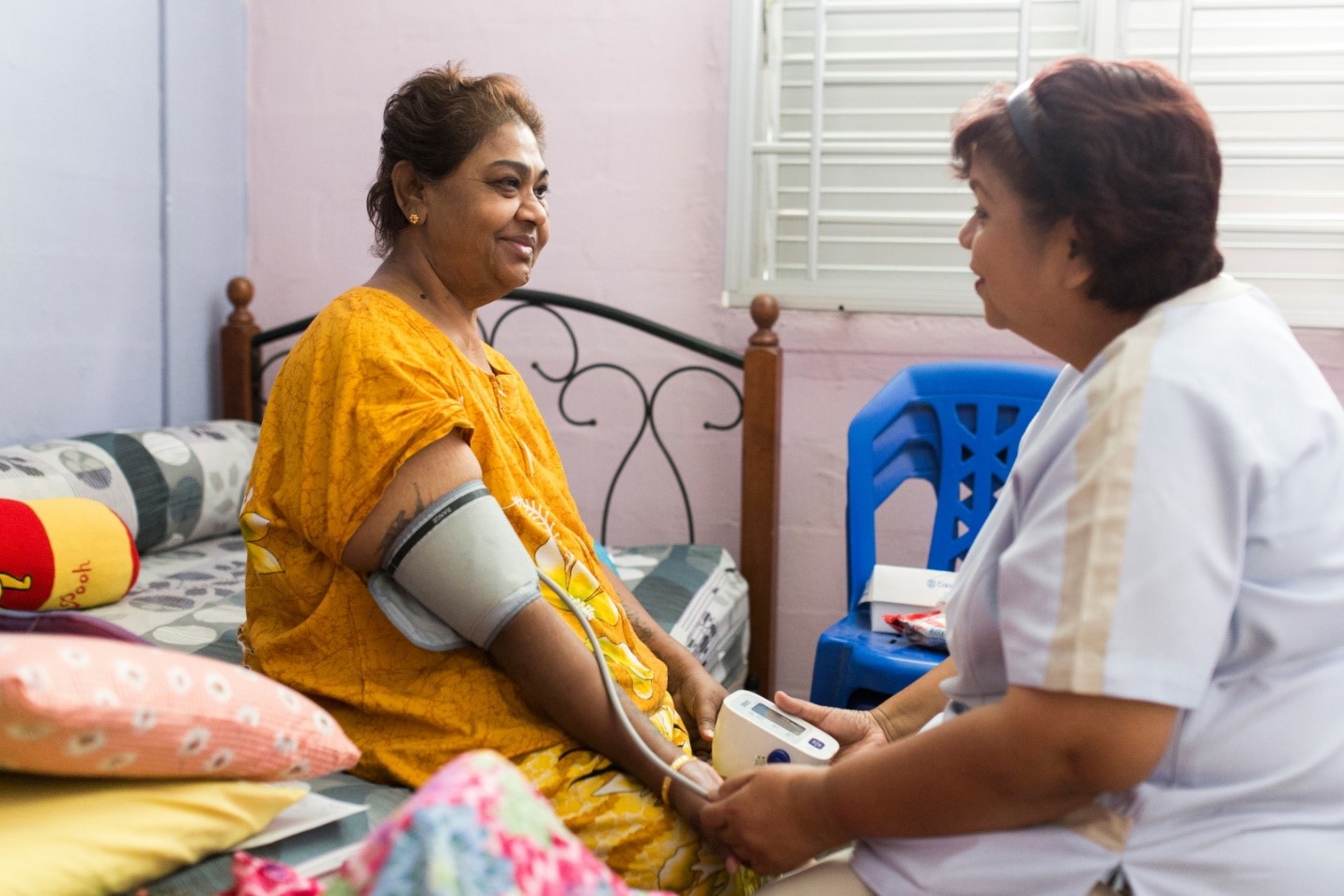 Mdm Emily Thamarai Kanni D/O Markos developed diabetes and high blood pressure when she was in her early 40s.
She went blind in her right eye, and was forced to give up her job. To make matters worse, she suffered a painful inflammation of her large intestine in early 2016, and doctors at Singapore General Hospital had to operate on her to save her life. She now needs to use a stoma bag permanently.
Mdm Emily, now 55, fell into a state of depression. "At that point, I thought, 'I am all alone. How can I take care of myself in this condition? How will I survive?'" she recalls.
Her Neighbors, Her Heroes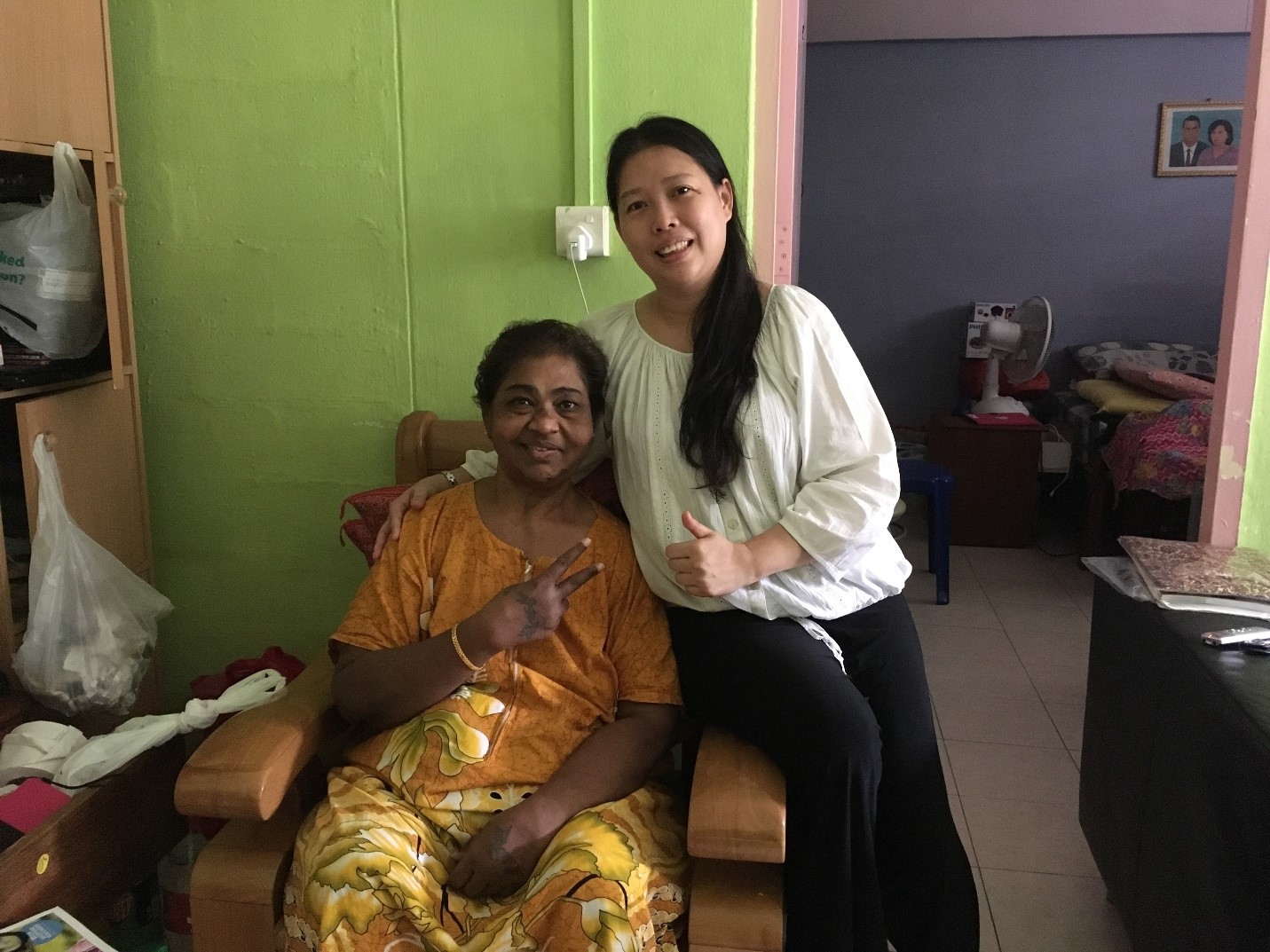 She has her neighbours to thank for supporting her through the difficult times. One of them is Ms Adalena Koh, who lives a few units down from Mdm Emily.
Mdm Emily recalls the day she was suffering from intestinal problems: "I was in unbearable pain. Adalena was the one who took me to the hospital, and stayed by my side. She left only after I was warded and by then, it was already 2am."
Ms Koh, who volunteers her time to help the needy, talks to Mdm Emily whenever she can. "Whenever I walked by Emily's flat, I would always check on her, especially if I saw that she was crying or looked depressed."
Says Mdm Emily, whose siblings live apart from her: "When your family is not around, it's important to have good neighbours you can depend on, especially if you live alone like me."
Holistic Support
In her lowest moment, Mdm Emily also struggled with her stoma bag, which contains her stools, as she worried it would leak. She also could not change the bag herself as it was situated on the right side of her body, where she could not see.
She was referred to Home Nursing Foundation (HNF) by the hospital. HNF's Senior Enrolled Nurse Sharifah Fauziah Binte Syed Salim Shahab would visit Mdm Emily's flat in Toa Payoh every week to provide stoma care as well as monitor her blood pressure and blood sugar.
The nurse, aware that Mdm Emily lives alone, takes special care to give her emotional support and words of encouragement. The two have become good friends. "I provide a listening ear and support in any way I can," says Nurse Sharifah. Mdm Emily looks forward to these visits all week.
"Sharifah is extremely caring. She always asks me whether I have eaten and how I am feeling. I enjoy her visits very much," she says.
Another Fighting Change
Mdm Emily is a changed woman today, thanks to her neighbours' intervention and community healthcare providers like HNF.
Her diabetes and blood pressure are now under control, as she takes care of her diet and never skips her medication under the watchful eye of her care professionals. She also sees a psychiatrist and is currently on antidepressants. And she views the challenges that once overwhelmed her in a different light.
With regards to her stoma bag, she says, "I have learnt to accept my condition. I take very good care of my bag, and always ensure the area around it is clean so that it does not become infected."