There are not many professions one can call a "calling", but many people would agree that nursing is among the most noble of professions. 
For Madam Saraswathy, better known as Saras, her 45 years' experience as a nurse were met with many fond memories and sacrifices, all at the same time. The 73-year-old former staff midwife recalls the moments that brought joy to her — when caring for her sick patients and seeing them get well. But it all came at an expense: her time with her family and children was compromised due to the irregular hours of shift work. 
As a working mother, she had to learn to shift gears between her role at home and at work. 
"In the hospital, you become a nurse. When you're home, you become a wife and a mother," she says. 
Unfortunately, her nursing career came to an end as her knee and shoulder pains got the better of her, and she resigned in 2015. 
But life has a funny way of bringing people back to what they were meant to do. In Saras's case, she found herself back in the same role, but now as a full-time caregiver to her husband and mother.
Caring for her mother
Saras and her mother, 94, share a close relationship, and although they live on opposite ends of Singapore, Saras ensures that her mother's well-being is taken care of, even if it means checking on her via a phone call. In fact, Saras would religiously call her every morning at 9 o'clock sharp; and if she doesn't, her mother would call her instead. 
Furthermore, Saras's nursing experience made her mother feel at ease when being cared for by her. Even to date, she finds comfort in travelling to her daughter's home for a little conversation and company. Saras recalls a notable time in 2004, where her home became the place where she nursed her mother to recovery after her hip replacement surgery. 
Under her care, her mother transitioned from being wheelchair-bound to walking without her walking stick within three months.
Saras recounted the moments to recovery as one of the most rewarding experiences in her caregiving journey. She says, "Seeing my mother make consistent improvements every day definitely brings me satisfaction. She can even walk to the market alone now at this age. She's still active and mobile, and even exercises on her own." 
Despite the older lady's independence, Saras and her four siblings had a growing concern for her safety during her public commutes, and her general safety at home. She has a high fall-risk, and a host of other ailments that worries them. 
To ease their concerns, Saras and her siblings made arrangements for a full-time helper to assist their mother in her daily needs. Even with the additional help, Saras still makes it a point to attend all her mother's medical appointments and hospital visits with her.
Having more time on her hands helped because her mother wasn't the only one she needed to care for. 
Managing dual roles 
Saras is also the caregiver to her husband, an 82-year-old former accountant. Since his heart bypass operation in 2003, Saras has been his primary caregiver. He is also reliant on her for many things, including walking and bathing.
There were times where he injured himself trying to do things on his own. Hence, Saras makes sure that he is never left alone without any assistance. To better manage her time between caring for her mother and her husband, they have a live-in domestic helper to assist Saras in other aspects of caregiving. 
Her helper is "in charge" of the household chores and takes Saras' husband out for daily walks, while Saras' main duties include bathing and cooking for him.
Cooking for her husband is not an easy feat, considering the fact that he had undergone gallstones removal surgery recently — he cannot consume anything sweet and oily. 
Unfortunately, his dietary restrictions weren't always complied with. He would find ways to eat "forbidden" foods without Saras' knowledge. "That's the part of the challenge in caring for him", she says. 
For her to get past his little "mischiefs", she will convince herself to let go of the matter and release her stress in other ways. This includes going to the activity centre below her home, MWS Charis ACE – Geylang East, one of the centres run by Methodist Welfare Services, which offers seniors the opportunity to be cared for in the community or in their own homes. This centre is also running the Community Outreach Team (CREST), that serves as a community safety network for people with or at risk of depression, dementia and other mental health conditions.
Joining MWS Charis ACE – Geylang East
When MWS Charis ACE - Geylang East opened their doors to the public in March 2014, Saras knew she had to join as a member. Her husband is also a member and occasionally participates in the activities together with Saras. 
Some of her favourite activities are the group exercises held every Monday and Wednesday, Bingo, and arts and craft sessions.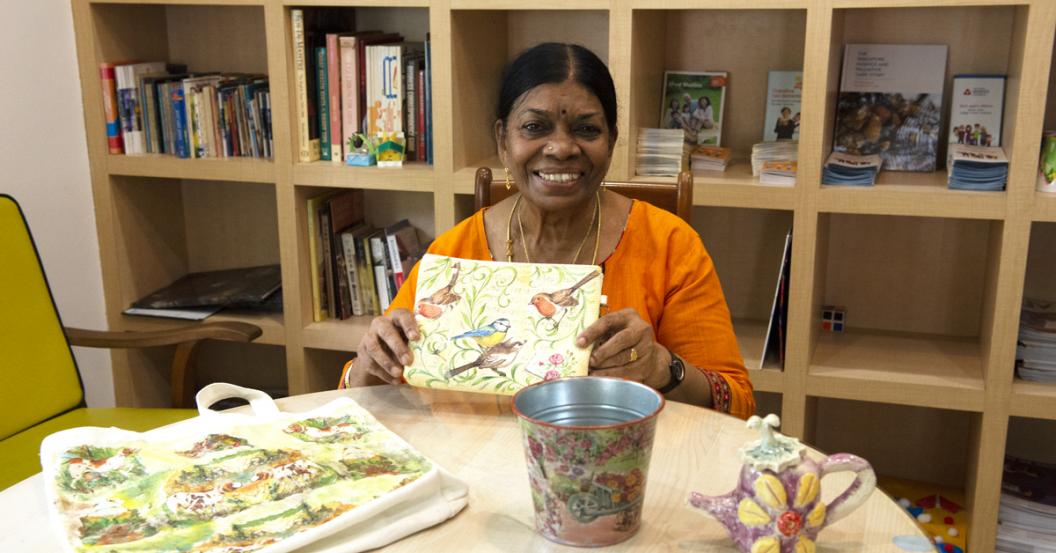 According to Ms Annie Ong, Manager at MWS Charis ACE - Geylang East, the programmes that the centre provides for the seniors are broken down into four key aspects (ABCD): Physical Activities, Engage Your Brain, Connect with Friends and Family, and Adopt a Healthy Diet, In general, their services aim to get seniors, whether they are caregivers or care recipients, to be active holistically. Some of the more popular cognitive games include the likes of Rummy-O and Blokus.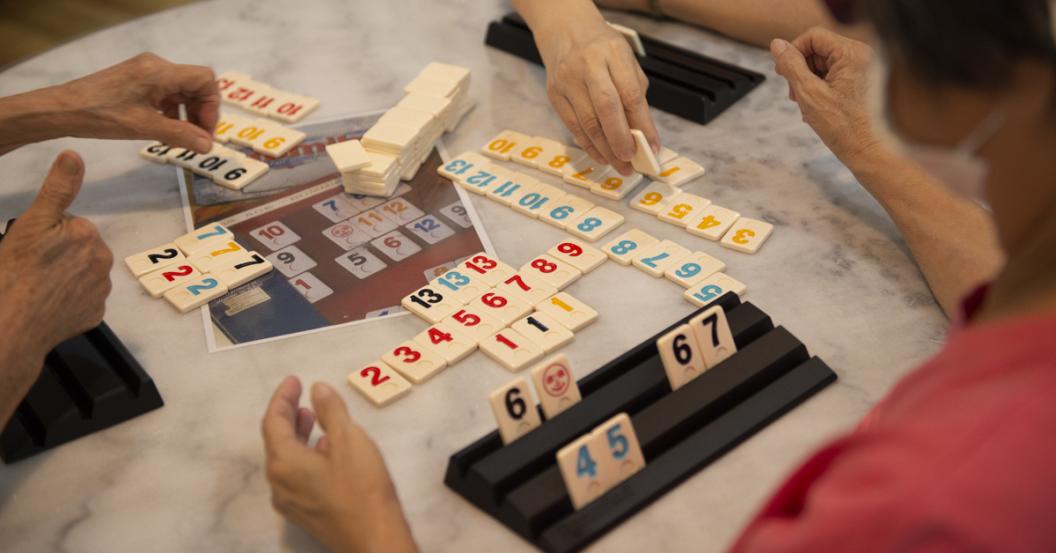 To better understand and propose suitable programmes for seniors who join as their members, the staff or volunteers will assess their mental capacity, mental health, and cognitive abilities.
Joining the activity centre has afforded Saras time to unwind and seek emotional support for the problems she faces while caregiving. She says, "Before this, I didn't have anyone to talk to. Now I can share my problems with my friends here, and hearing about their problems has somehow made me feel that my problems aren't the worst — instead it makes me feel grateful." 
Making time for what matters
Besides the activities in-centre, Saras finds happiness in visiting her children's house to play with her grandchildren, or shopping with her daughters-in-law and sons. She also takes a keen interest in reading various health-related books to increase her knowledge, which was what drew her to attend some of the health talks organised by MWS Charis ACE – Geylang East.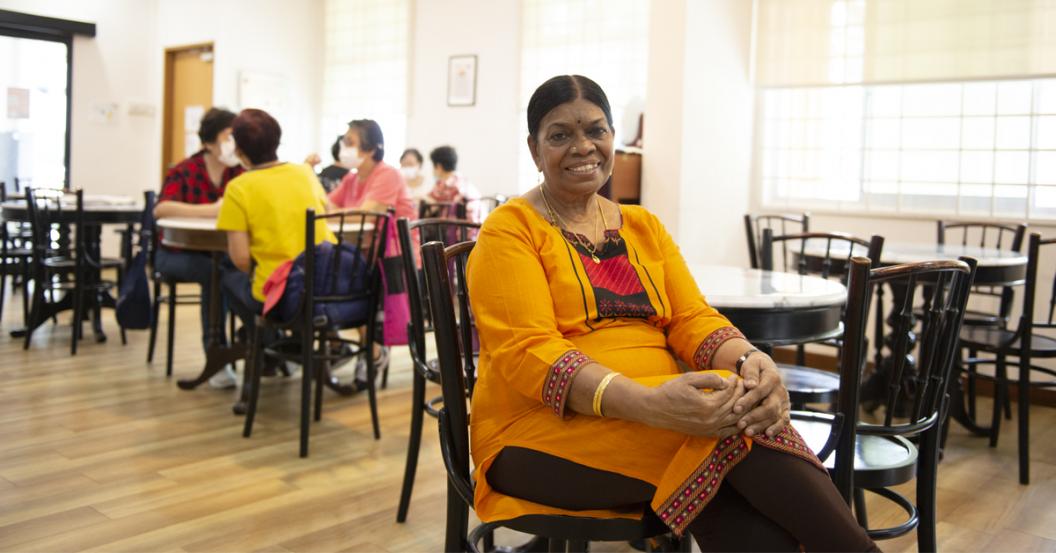 While she has not been practising as a nurse for many years now, Saras is glad to have the chance to still do something she considers a calling – caring for her loved ones, and making sure they are well. 
"I feel happy and satisfied caring for both of them," she says. 
"If they show good progress, and can eat well and move about as they wish, I am happy too. This is the same feeling I felt when I was working with my patients."
Community Outreach Team (CREST)
Many people may be unaware of how to identify signs and symptoms of mental health conditions and where to go to for assistance. 
Recognising such needs, the Community Outreach Team (CREST), focuses on prevention, raising awareness of mental health conditions including dementia and early identification. If you suspect you or your loved one may have or is at risk of having a mental health condition, the team can visit you at your home to provide screening and link you up to relevant health and social care services. The team can also provide emotional support if you need a listening ear, and support caregivers with resources to care for their loved ones at home. 
If your loved one with a mental health condition(s) has been discharged from hospital, the Community Outreach Team can also provide long-term support in the community via home visits or follow-up calls. 
You may email ccmh@aic.sg to find out more information and resources.