The person Annie Goh saw in the mirror was just a shell of her former self. It was the year 2007. She had experienced sudden, drastic weight loss, felt depleted of energy, and could not even bring herself to stand up and walk. 
It was at that moment when she decided she needed to take control of her own health. "I couldn't live like this anymore," Annie, now 67, says.
Annie was devoted to her career as a property agent, a job she held with pride since 1995. She survived most days on only four hours of sleep, powered through 12-hour workdays, and often subsisted on fruit juice instead of proper meals.
All of these took a toll on her health.
The Tipping Point
Annie learnt she had developed diabetes in 2000, after a visit to the company doctor. But as the doctor told her she was "slightly" diabetic and could continue living normally, Annie was unfazed by the diagnosis.
Furthermore, she was far too busy to think of the diagnosis. Annie's calendar was packed with property auctions, meetings for private sales and rentals, amongst others. As the days passed, she started to skip her medications and continued satisfying her cravings for sugary treats. 
Slowly but surely, her condition deteriorated. 
In 2007, her body had enough. In the span of just a few months, Annie's weight dipped suddenly, and her clothes became too large for her. 
One day Annie started experiencing severe heart palpitations and blurred vision while driving to work. Fearing the worst, she pulled over. At that moment, she recalled a recent chat with her church acquaintance, Dr Lim Chien Chuan, who had noticed her ill health and asked her to visit his clinic. 
She recalled calling her older sister for help. "I don't think I'm feeling well. I need to see Dr Lim."
The Diagnosis
It was a grim visit. 
"Your sugar levels are critically high," Dr Lim told her then, shaking his head as he reviewed her blood test.
Annie remembered crying as Dr Lim shared the diagnosis. Her blood sugar reading was at 13.6mmol/L – way above the normal range of under 7.8 mmol/L. She risked falling into a coma if this had gone unabated.
He presented her with two options — admit herself to a hospital immediately, or live with her older sister while she recuperated. Annie chose the latter option, which kick-started a two-month long recovery journey.
Taking Control of Her Life
Annie made drastic changes. She went from being a workaholic to having to switch off from work completely. She gave up eating her favourite Japanese rice, and ate brown rice instead. She cut sugary foods such as cakes from her diet, eating only half an apple or banana as a snack each day.
She tried going on daily 20-minute walks, but it was too difficult initially due to her poor health. 
Annie knew moping around would not improve her situation. She was determined to get her health back on track. She developed a taste for brown rice, which had a nutty flavour. With a lot of effort, she started going for 45-minute walks and clocking 10,000 steps a day.
Annie credits her sister for helping turn her life around. She read up on diabetes online, found healthy recipes and took care of all of Annie's meals and medication.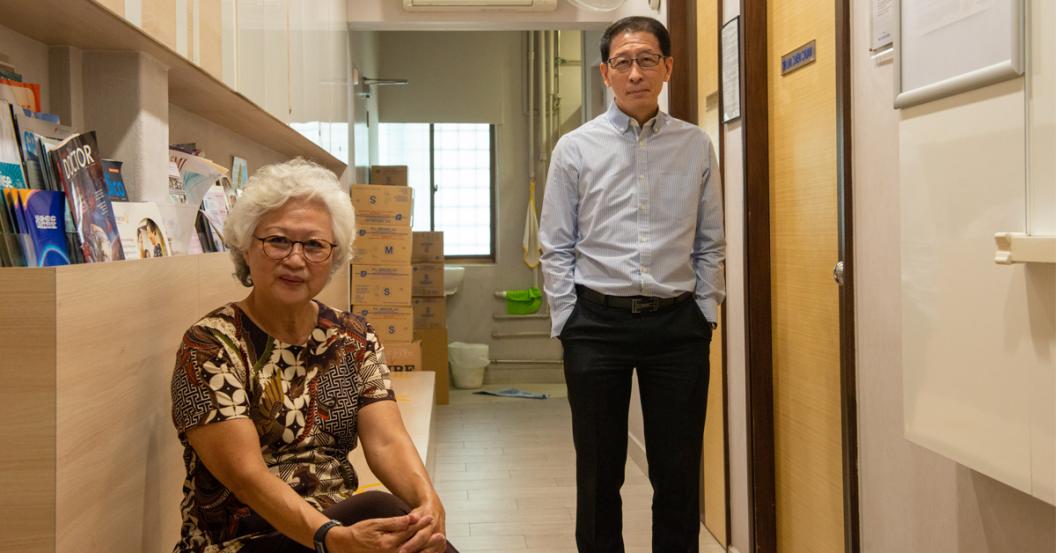 Dr Lim, on the other hand, went beyond his role as a doctor and guided Annie closely. He often lends her a listening ear, and introduced new technology or financial schemes that Annie could benefit from. Dr Lim and his wife even bought biscuits for Annie to keep in her car, so she wouldn't go hungry on her busy days.  With his help and meticulousness, Annie was able to regulate her blood sugar level and gradually reduce her medication.
"Dr Lim is not just a doctor. He's also a friend," says Annie.
Dr Lim also referred Annie to the Primary Care Network (PCN), helping her hasten her recovery through close monitoring of her conditions via a team-based care approach.

PCN is a network of General Practitioners (GPs) supported by nurses and care coordinators, who provide holistic and coordinated care for patients. It is especially helpful for patients with chronic conditions such as diabetes, hypertension and hyperlipidaemia.
For patients like Annie, the PCN care coordinators will step in and help to schedule her for the necessary ancillary services such as diabetic eye and foot checks, and to see a nurse counsellor who offers advice on lifestyle and dietary modifications to curb her sugar levels.
Now, 21 years after the initial diagnosis, and 14 years under Dr Lim's care, her diabetes is well-managed. Annie is even able to – very occasionally - satisfy her sweet tooth. "I feel blessed to have my faith, and the support of my family and friends throughout my journey to recovery." Annie shares.
Looking back, Annie is glad she took action before things got any worse. She says: "You can still lead a good life with diabetes. There are a lot of things we can still do, just don't focus on the negatives."