Taking Care of Myself Taking Care of Others
(This story is from our archives of NextStep Magazine. The Magazine has since been renamed to AIC With You)

Diagnosis and Early Days
"Around 2015, my siblings and I were shocked and puzzled to see changes in our mother's behaviour and personality. I decided to send my mother to hospital because we did not know what to do. She was then diagnosed with dementia.
"My whole life changed at that point," revealed Madam Faridah. "I had to follow my mother's sleeping patterns, make sure she eats and help her go to the toilet. I even had to cope with her seeing ghosts and relatives who have passed away!
"Sometimes, she is not able to express herself. Then, I feel frustrated that I cannot understand her." Madam Faridah cared for her mother at home on her own for over a year. She drew strength from her own mother who raised them after their father passed away when Madam Faridah was just eight. However, it took its toll on her.

Keeping Strong and Drawing Strength
"Right from the beginning, I was advised that I had to stay healthy so that I can properly care for my mother. Luckily, I have always been quite fit.
"But taking care of my mother's needs all the time was challenging and I became very tired. In fact, I even broke down before," she admitted.
"So when I was told that there was a day care place for my mother at the (then) new Thye Hua Kwan's Senior Care Centre @ Kaki Bukit (Bedok North) near my place, I was so happy.
"Caregivers need a lot of support and I am blessed to have a strong network of family and friends. My siblings and I have a family chat group, and my sister often takes me out to relax."

You Need Not Be Alone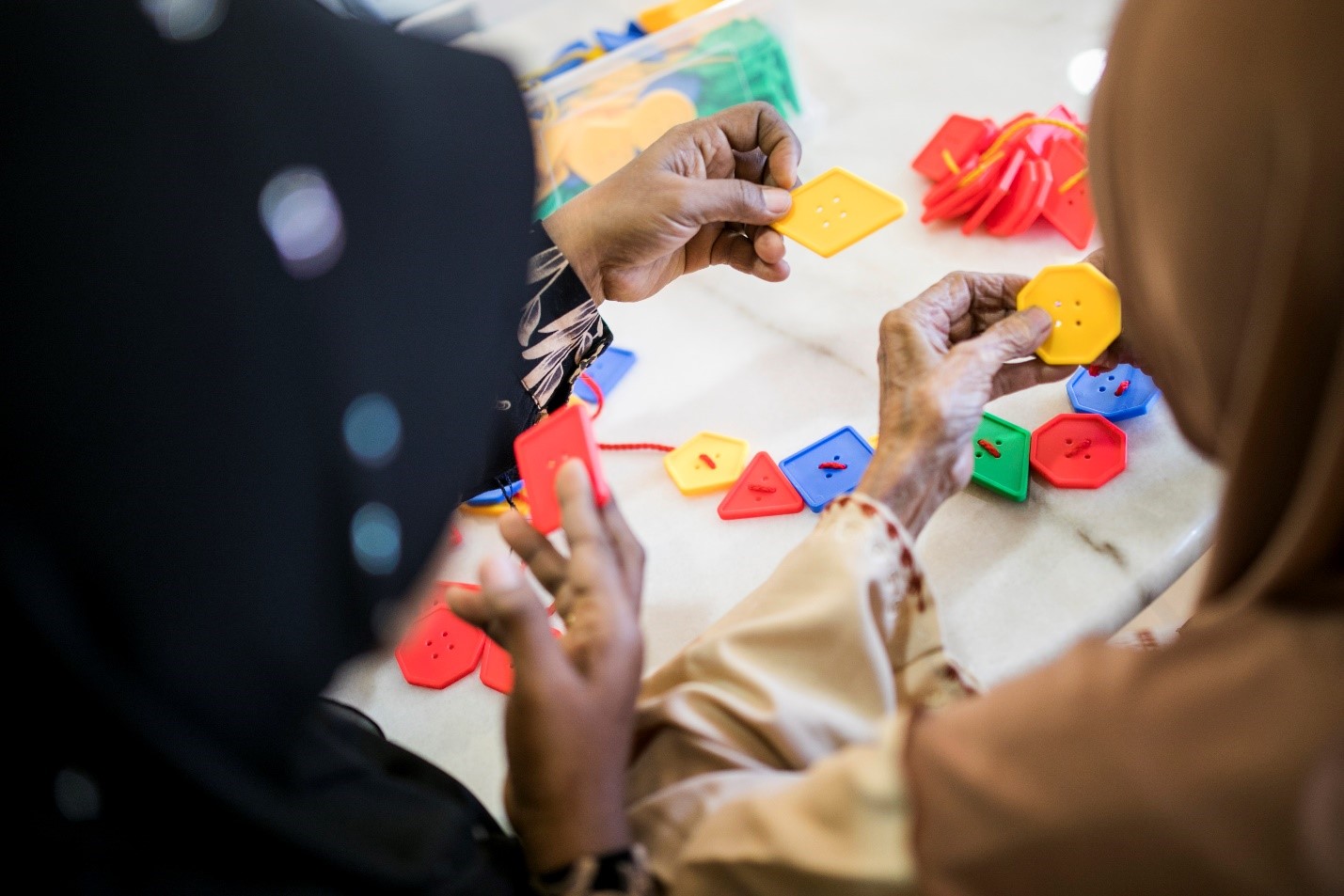 "Since going to the day care centre, my mother's condition has really improved," shared Madam Faridah. "My own health has also improved since I can sleep more.
"Caregiving is a process which you just have to go through, but don't be afraid to ask for help.
"If you send your parent to a day care centre, it does not mean that you do not love them.
"In fact, it is actually more beneficial for the senior as well as the caregiver. I find that day care centres actually have the resources and facilities to better care for them. While your loved one is there, you have time to take care of yourself."

Day Care Centres
Working caregivers, like Madam Faridah, can make arrangements for their frail loved ones to attend a day care centre when they are at work during weekdays. At these centres, seniors are engaged in activities like exercises and games to stay mentally, physically and socially active.
They return home in the evenings to spend time with their families. Transportation between the centre and home can be arranged if caregivers need help ferrying their seniors. That way, caregivers can have peace of mind while they are working.
Find out more about services offered by day care centres.